ASPELL RECOVERY CENTER IS THE RESULT OF A DREAM SHARED BY TWO RECOVERING ALCOHOLICS.
Aspell Recovery Center is the result of a dream shared by two recovering alcoholics – Bob Aspell and Charles Gay, Sr. Bob Aspell came to Jackson from Ohio as an alcoholic, homeless man. He got off the train at the Salvation Army in Jackson and eventually met Charlie, who had retired from the railway. Together, they cast the dream for an organization that could help house and feed men in tough situations. In 1975, Mr. Aspell passed away before the program began.
In November 1979, T.A.M.B. of Jackson, Tennessee began administering Aspell Recovery Center. T.A.M.B. was created as an organization of local citizens that were deeply concerned about the alcoholism and addiction problem in West Tennessee. The initials of the organization memorialize these founding persons: Nancy Tuchfield, Bob Aspell, Dr. Frank Moore, and Sam Bergel. Charlie Gay served as the first Executive Director.
Charlie's House, named for Charles Gay, was opened in 1999. It serves as a transitional living program for men who lack the support services that enable them to maintain a clean and sober lifestyle. It is self-funded through rent paid by residents. Charlie's House allows residents to sharpen their recovery tools in the community while still providing the support of the treatment environment.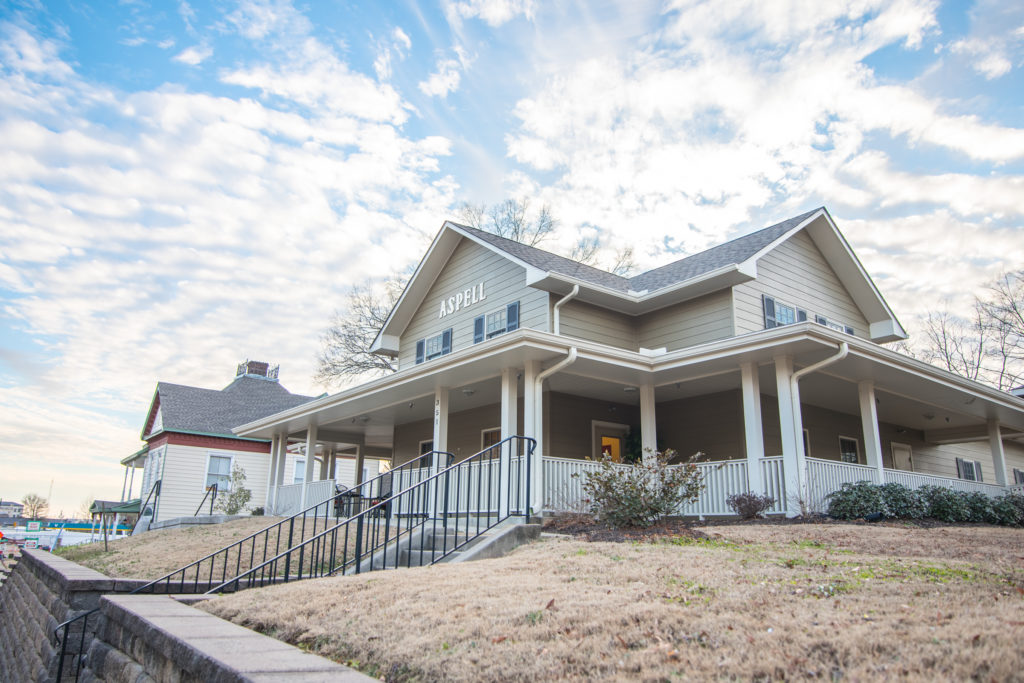 In 2005, Aspell initiated a strategic plan to expand its residential capacity and further enhance the services they offered. Through involvement with the U.S. Department of Housing and Urban Development (HUD), the Federal Home Loan Bank of Cincinnati, private foundations, city and county government, and the support of a caring community, Aspell acquired the majority of the contiguous block where the original Aspell Manor was located. All the salvageable properties were renovated with updates and non-salvageable properties were demolished to create green space.
That same year, Aspell completed renovations on the house adjacent to the administrative building on McCowat Street. It became the home to six men in a halfway house setting.
In 2007, Aspell expanded once again – this time to offer substance abuse treatment to women. Lifehouse, as the residential treatment facility is known, provided curriculum and professional staffing to support the needs of these women.
In 2009, a grant from The Federal Home Loan Bank of Cincinnati allowed Aspel to acquire Talbot Towers, a 26-unit apartment complex located adjacent to the main campus. These apartments are used as affordable housing for recovering individuals and their families. As a resident, the rent is based on income. In return, the individuals agree to remain alcohol and drug free and will also prevent guests from bringing these substances onto the property.
In 2010, Gus Middleton and his late wife Ann made a substantial contribution to create an additional 8 beds for women leaving Lifehouse and entering into the onsite Intensive Outpatient Program. This treatment facility is known as Ms. Ann's House. In 2013 an additional six female beds were developed in a home adjacent to Lifehouse for long term supportive living.
Also in 2010, Aspell expanded its scope of services to include those with co-occurring disorders.
In 2013, Aspell purchased and renovated a house and garage apartment next to Talbot Towers which created 8 more long term beds for men.
In 2017, Aspell opened its new men's dorm, housing 20 men, and repurposed a next-door building into include a kitchen, cafeteria, and office space.  This multipurpose building was named Middleton Hall in honor of Gus Middleton and his entire family, and it is affectionately known as "The Gus".
Also in 2017, a 6 bed house adjacent to the main Aspell Campus was purchased and renovated to be utilized as long-term recovery housing for men. Our board and staff made a decision to honor a former long term treatment director and it is now known as Truman's House.