Aspell Recover/Hardin County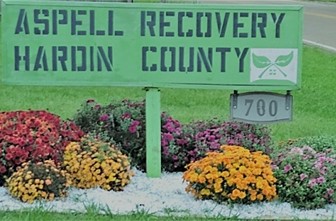 700 Pinhook Drive – Savannah, Tennessee
                                                                                            Phone: 731-438-3214
                                                               Email: jesse@aspellrecovery.com or jamie@aspellrecovery.com
Aspell Recovery/Hardin County is a non-profit agency funded in part by the community through contributions by the Darryl Worley Foundation, the Hardin County Healthcare Foundation, Inc., and private donations from individuals, churches, and businesses.
We accept clients directly into our program as well as clients who are stepping down from a higher level of care (detox, residential, etc.)
We provide treatment with the option of supervised and structured transitional living at 700 Pinhook through our 12-bed transitional living facility is available for participants of our intensive outpatient program (IOP) who may be in need of a safe home, adequate social support, and reliable transportation. However, clients who have these supports in their home environments do not have to live on our campus to receive IOP services. During residency, the clients are assisted with job placement, case management as well as required to attend regular 12-step meetings.
We provide semi-structured and supervised extended living at 1090 Pinhook for clients who have completed our 1st phase of treatment. The transitional housing program provides an alcohol and drug-free supportive living environment for men ready to begin rebuilding their lives during their minimum stay of 3-months.
We facilitate our client's progression through the stages of treatment with planned gradual reintroduction to society and independent living over the duration of a client's commitment.
The client can commit to 3-, 6-, or 12-month duration at onset of treatment or they can commit in 90-day increments if bed space allows.
Aspell Recovery/Hardin County is able to provide:
Assessment for Alcohol/Drug and Mental Health Issues
Referrals for Appropriate Care
Intensive Outpatient Program (IOP) 
Group Therapy Sessions
Individual Counseling 
Health & Wellness Check
Co-occurring disorders capable. 
Trauma sensitive environment 
Alcohol and Drug Life Management Lectures
Family Services
Case Management
Community Outreach Services
Recovery Living